Lihuk Miz Dior
"Miz D"
21April 2005 - 15 May 2006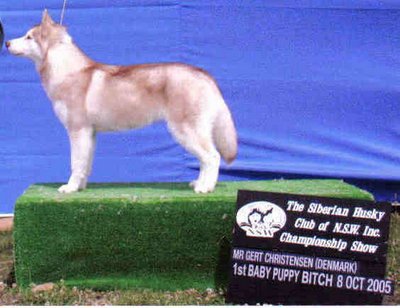 Puppy in Show
Siberian Husky Club of NSW Champ Show
Mr Gert Christiensen (Denmark)
"Good female head, scissor bite, minimum stop, nice eyes, well set ears,
good neck and topline, good croup, well set tail. For the age, excellent body,
well angulated - good bone, excellent mover. Good coat and colour.
Good temperament"
DD's time with us was far too short , and her sudden passing has left a great hole in our hearts. DD was a beautiful young lady, with a great future, winning many Age in Shows and already pointed to her title.
But most of all Little DD was our little girl, full of life and fun, a joy to have. How we miss your mischievous ways DD. We think of you every day little one and how you brought us so much laughter and happiness.
We miss you Little DD and you will always be in our hearts.
Look not where I was
For I am not there
My spirit is free
I am everywhere
In the air that you breathe
In the sounds that you hear
Don't cry for me Mom
My spirit is near
I'll watch for you
From the other side
I'll be the one running
New friends by my side
Smile at my memory
Remember in your heart
This isn't the end
It's a brand new start.
By: Carol Kulner