The Chief & Gypsy Belle

(Please scroll down)

If tears could build a stairway, and memories were a lane,

We would walk right up to Heaven and bring you back again

Since you'll never be forgotten, we pledge to you today

A hallowed place within our hearts, is where you'll always stay
Chief 8 weeks old & Gypsy 4 weeks old

Always together, but not always sharing, can you tell who is the boss?

Chief & Gypsy were our first malamutes, and the start with our love affair with the Alaskan Malamutes. They were litter mates, and were bought only to be our pets but after some coaxing from their breeder, they were shown sparingly and to our surprise did well. These two were inseparable, and through them I have learnt so much, they were my teachers. Neither Chief or Gypy were Best in Show Winners, never attained their championships, but in our eyes and hearts they were our Champions.

Celticfrosts Keltoi Chief
"The Chief"
21st April, 1995 - 4 September 2006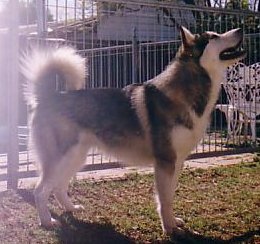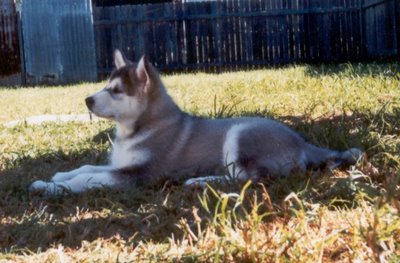 Chief was our first malamute. He taught me so much, and was the start of a our love affair with the Alaskan Malamute. He was my special boy, always by my side through the good and bad times. I knew my life would be transformed when we brought Chiefy and his sister Gypsy into our lives, but I did not realise how much it would change. Chief has given us so many wonderful years and so many happy, treasured memories. Chief was not a show dog, but he was the best friend and companion you could ever ask for. Chief crossed over at home in my arms, on September 4, the look in his eyes said that it was time for him to leave us, I spoke gently to him, told him it was alright to let go, and that one day we will be together again, I held him tight until his eyes could no longer see, together to the end. Chief did it his way. Chief has left a great hole in all of our hearts, and went he left this world, he took a piece of me with him..
Our home is not the same without you, my "Chiefy Man".
I miss you so much my Chiefy. Not a day goes by that I don't think of you, my boy and if I could turn back time, I would do it all over again, so we could walk together once more.
Rest in Peace my beautiful, proud gentle man.
Truely the CHIEF of our Mals
A Pet's Prayer
If it should be, that I grow frail and weak,
And pain should keep me from my sleep,
Then, you must do what must be done
For this, the last battle, can't be won.
You will be sad, I understand,
Don't let your grief then stay your hand,
For this day, more than the rest,
Your love and friendship stand the test.
We've had so many happy years,
what is to come holds no fears.
You'd not want me to suffer, so,
When the time comes, please let me go.
Take me where my needs they'll tend,
Only, Stay with me to the end.
And hold me firm and speak to me
Until my eyes no longer see.
I know, in time, you will see
It is a kindness you do to me.
Although my tail its last has waived,
From pain and suffering I've been saved.
Don't grieve it should be you,
Who decides this thing to do,
We've been so close, we two, these years
Don't let your heart hold any tears.
Smile, for we walked together
for a little while.
Celticfrosts Gypsy Jinka
"Gypsy"
21st April, 1995 - 16 August 2009

With her beautiful head resting my lap, and sweet kisses on her soft, gentle face we said our final good byes to our gorgeous Grand Old Lady. Letting our Gypsy Belle go was so hard, but with a wag of her tail, Gypsy let me know that it was ok and that it was time for her to leave us.
At the tender age of 14 ½ years, Gypsy crossed over.
Gypsy lived a wonderful life, filled with love, fun and mischief. Our home feels empty now with both Chief & Gypsy at the Rainbow Bridge. Since her brother's passing, Gypsy has been my constant companion, I miss her so much and feel so lost. Chief & Gypsy were inseparable, now they are reunited.
The hole in my heart left by the loss of both Chief & Gypsy will never be complitely filled.
We thank you Gypsy for sharing your life with us, until we meet again our Beautiful, Sweet Grand Old Girl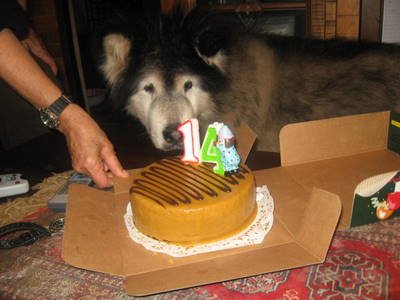 Gypsy celebrating her 14th Birthday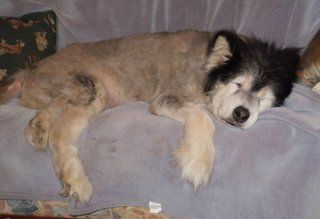 Our girl just lounging around
A note from our Chief & Gypsy
To my dearest family, some things we would like to say,
But first of all, to let you know, that we arrived ok.
We are writing this from the Bridge, here we dwell with God above.
Here there's no more tears of sadness, here is just eternal love.
Please do not be unhappy just because we are out of sight.
Remember that we are with you every morning, noon and night.
That day we had to leave you when our lives on earth was through,
God picked us up and hugged us and He said "I welcome you.
It's good to have you back again, you were missed while you were gone.
As for your dearest family, They'll be here later on."
God gave us a list of things, that he wished for us to do.
And foremost on the list, was to watch and care for you.
And when you lie in bed at night the day's chores put to flight,
God and we are closest to you, in the middle of the night.
When you think of our lives on earth, and all those loving years,
because you are only human, they are bound to bring you tears.
But do not be afraid to cry, it does relieve the pain.
Remember there would be no flowers unless there was rain.
We wish that we could tell you all that God has planned.
If we were to tell you, you wouldn't understand.
But one thing is for certain, though our lives on earth is o'er,
We are closer to you now, than we ever were before.
There are rocky roads ahead of you and many hill to climb;
but together we can do it by taking one day at a time.
It was always our philosophy and we would like it for you too.
That as you give unto the world the world will give to you.
If you can help somebody who's in sorrow and pain,
then you can say to God at night, "My day was not in vain".
And now we are contented ..... that our lives were worthwhile,
knowing as we passed along, we made somebody smile.
God says: If you meet somebody who is sad and feeling low,
just lend a hand and pick him up, as on your way you go.
When you are walking down the street with us on your mind,
We're walking in your footsteps, only half a step behind.
And when it's time for you to go.... from that body to be free.
Remember, you're not going.... your coming here to us.
Author unknown